There are many types of aftermarket parts that are easy to improve upon with stock motorcycles, but there are also some that are pretty damn good in production form (like the new 2022.5 KTM Factory Edition footpegs). Some people don't realize how much goes into making a stock footpeg work so well, but trust me when I say I have been through days of production footpeg testing that took forever. Footpegs basically don't get the recognition they deserve because frankly, if you aren't talking/complaining about them, that means they are doing their job. You never hear a rider say "hey bro, my footpegs are working great out there". No instead, no news is good news, when it comes to footpegs. However, there are many aspects to look at such as pitch, sharpness, folding ability, etc. FLO Motorsports have been making pegs for quite sometime but have now dived into the titanium footpeg craze.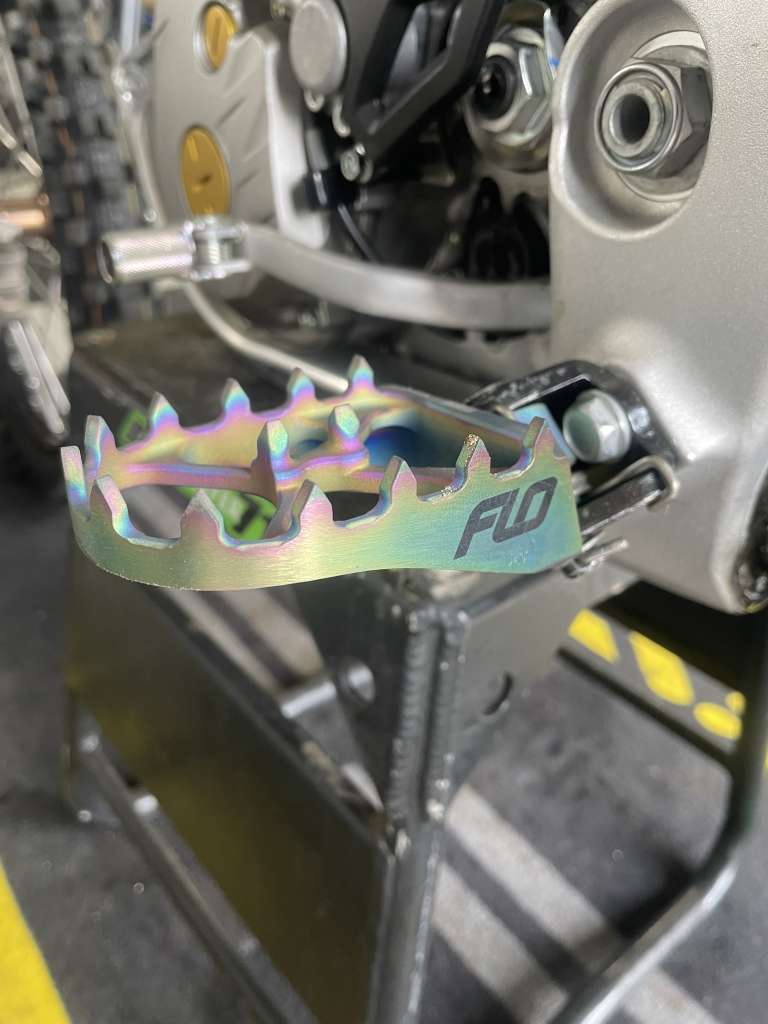 The FLO titanium pegs are made from one piece of 6AL4V titanium, have a XXL platform that measures 60mm wide and 90mm long, have extra sharp spikes for maximum grip and come in at only 11 ounces. I am fairly picky about how mu pegs sit and some aftermarket companies have their pitch off, but after installing FLO's titanium pegs I noticed that these almost have a stance exactly like the stock OEM pegs. This is like! I hate when some aftermarket pegs have a upward pitch and do not sit flat so after the 15 minutes it took me to install them I already was pleased. 
Once on the bike and riding you get way more grip when riding on the balls of your feet and have more confidence when doing so. Sometimes with dull teeth, it's tough to stay on the balls of your feet (I struggle with this a lot), but with the sharp teeth of the FLO pegs, my ankles weren't worried about slippage. I like that I can use the stock springs so the tension remains the same. Kawasaki has a good amount of tension on their footpeg springs so getting them to lay back down after you bury it into a rut is a non issue. The self clean decently enough (better than OEM, but not better than open cleat design) and of course the looks of them are "super cool" as my kid would say. We have been hammering on these for a while and they have holding up well. To us, these are the best pegs that FLO pegs that we have ran. Now only if they made them in different offsets. Bueller? Bueller? Bueller?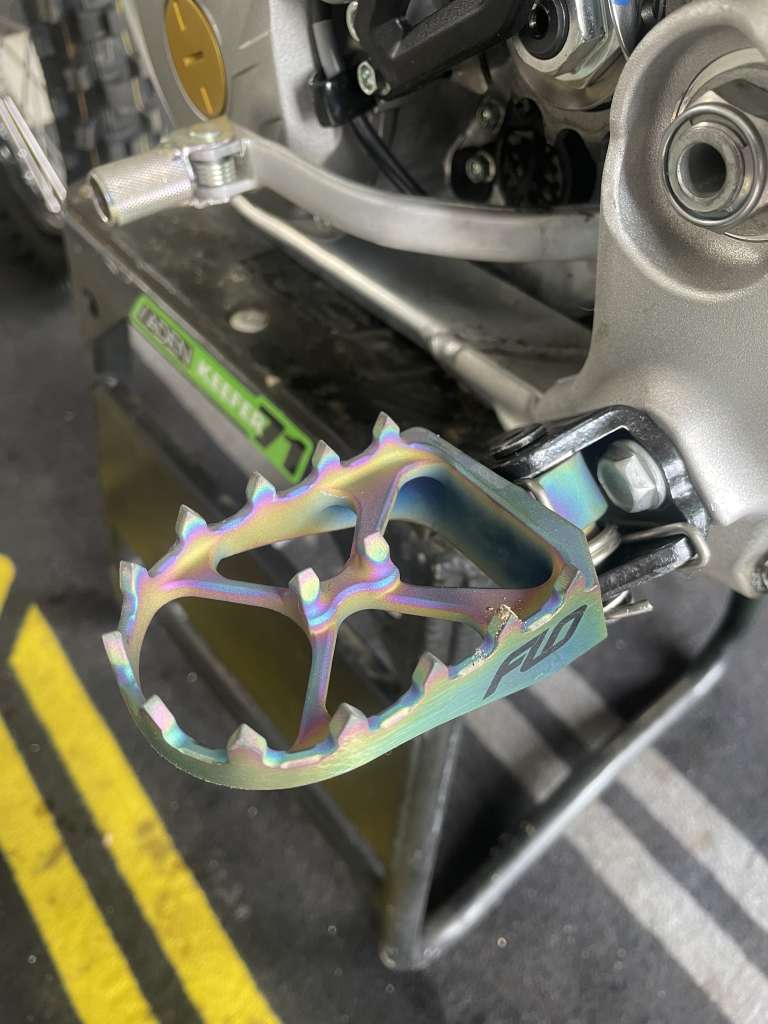 The titanium FLO pegs will set you back 389.95 and you can see what they offer over on flomotorsports.com. Any questions about these footpegs please feel free to email me at kris@keeferinctesting.com.